TNN | Updated: Dec 24, 2019, 9:38 IST
Representative image of Asiatic lion
RAJKOT: A 55-year-old farm labourer was savagely mauled to death by an
Asiatic lion in Jira village
of
Amreli district's Dhari
taluka early on Monday morning.
Kadu Bhilad, a native of Madhya Pradesh, had gone to answer nature's call when he was attacked. The lion dragged him for nearly half a km and bit into his neck and chest, leaving him dead on the spot. Bhilad started screaming for help and some locals even rushed there, but the injuries were very severe and he died on the spot.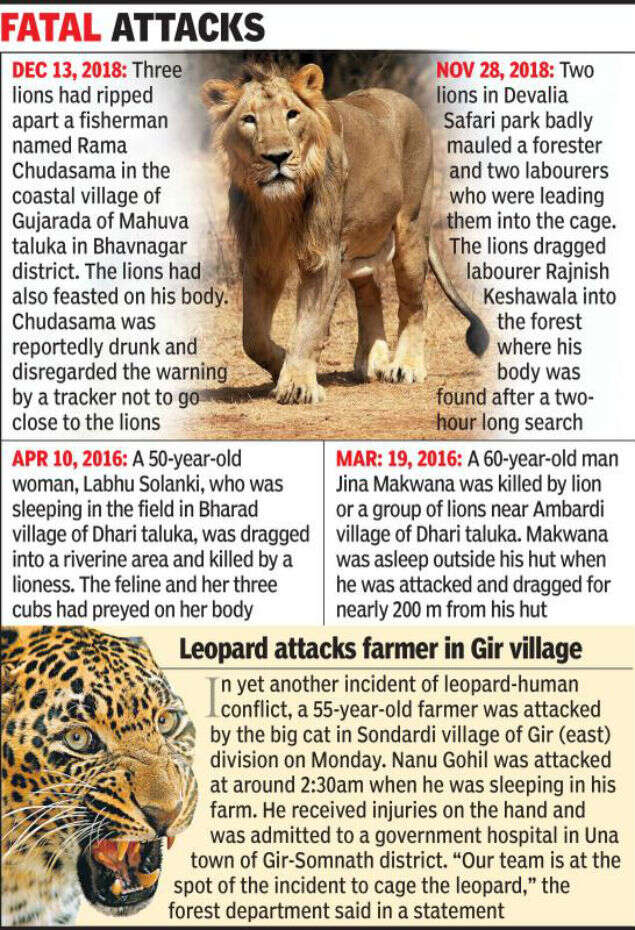 Forest department officials said that the lion might have attacked Bhilad mistaking him for some prey.
Popat Gardi, deputy conservator of forest, Gir (east) said, "The incident took place at around 6am when it was dark. Bhilad had wrapped a blanket over his body and was sitting near a natural water drain near the farm. The lion may have mistaken him as some herbivore and attacked him. However, the lion did not eat him."
Chiman Bhambhomrliya, the farm owner, said, "Bhilad's body was found nearly 500m away which indicates that the lion had dragged him for this distance. There were severe injury marks on the neck and chest." "We have been living under constant fear of attacks by lions or leopards," he added.
A team of forest department captured the lion, which is aged between three and five years, near the village and transported it to Sakkarbaug Zoo in Junagadh. It took about five to six hours to track and cage the lion.
Amreli district has nearly 100 Asiatic lions, most of them found in areas close to human habitats. The village falls under Dalkhaniya range of Gir (east) division where 34 lions had died of canine distemper virus in October last year.
It must be mentioned that large number of migrant farm labourers have left villages of Amreli district after a spate of attacks by leopards. This was a rare instance of a lion killing a human. Forest officials said the migrant workers become target of wild animals because they are not aware about their movements and lack proper training to save themselves.
https://timesofindia.indiatimes.com/city/rajkot/lion-mauls-farm-labourer-to-death-in-amreli-village-caged/articleshow/72943965.cms
TNN | Updated: Dec 24, 2019, 9:38 IST


TNN | Updated: Dec 24, 2019, 9:38 IST