Wildlife experts say not just cubs, but adult lions too may find it difficult to adapt to forest environment back again after such a prolonged stay in captivity.
The authorities have not yet set a date for the release of the captive lions and cubs in Gir. However, Chief Conservator of Forest D T Vasavada says the lions are healthy and doing well.
Principal Chief Conservator of Forest and Wildlife Warden A K Saxena told Mirror, "The lions have been vaccinated, so we need to follow a certain protocol before releasing them. They have to be kept under observation for long periods as medical teams need to check their immunity and analyse other effects of vaccines. Also, certain medical tests have to be carried out to check whether or not these big cats have started producing antibodies naturally."
Cubs may have to remain captive for much longer, perhaps all life, as they have learnt to be fed artificially, Saxena added.
It all began six months ago when over 30 lions died in about 3 months' time. In fact, over 23 of them died in just 20 days in September 2018 alone of suspected Canine Distemper Virus. Most of the deaths were reported from Dalkhaniya range of Gir (east). Following this, 31 lions were rescued from the affected area near Semerdi in Gir so as to avoid more casualties. In Semerdi, an alarming 11 lions had died in a span of three days.
The captured lions were housed at a veterinary facility in Devaliya. They were given vaccines at specific times over a duration in keeping with the protocol for such disease outbreaks.
HS Singh, retired Principal Chief Conservator of Forest and Chairman of Gujarat Biodiversity Board said, "Since these captive lions have interacted so much with humans during their treatment, it is not appropriate to release them in their habitat. We don't know how they will behave in the wild." With long periods of living near humans, the lions can lose fear of humans and approach them fearlessly in the wild, leading to higher incidence of animal-human conflict. On the other hand, these lions may also have lost the ability to hunt which could aff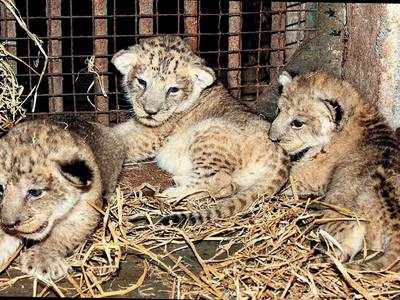 ect their survival.
Singh added, "Their territory may also have been taken over by other animals, which leaves them with more competition for food than earlier." Currently, there are more than 700 lions in the Gir region; the numbers having grown at healthy rate in the last five years, with the highest density being in Brihad Gir and Gir east. They are now moving out to revenue areas and making new places their home.
The lions that got affected by the virus infection died of respiratory and hepatic failure. After the receipt of test reports from Pune-based Institute of Virology, the lions were rescued and given vaccine shots. Department had ordered 300 shots of vaccines from US for the lions in last six months. Recently the forest department ordered another big consignment of 400 shots of the vaccine. "We need to keep in a sufficient stock at all times," said Saxena.
might never be released back into the wild
Read more at:
https://ahmedabadmirror.indiatimes.com/ahmedabad/cover-story/captive-pride/articleshow/69087664.cms?utm_source=contentofinterest&utm_medium=text&utm_campaign=cppst