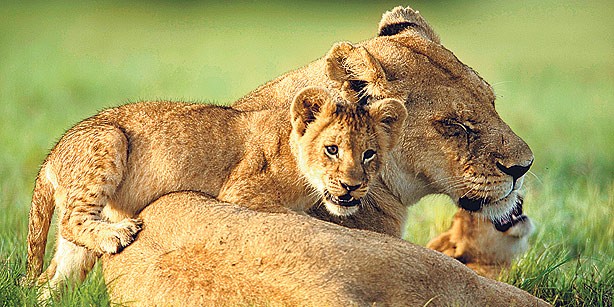 By
Soumo Ghosh
August 9, 2014 17:49 IST
The Asiatic lions at the Chandraprabha Wildlife Sanctuary, in Kashi Wildlife Division, Uttar Pradesh, have vanished, according to some reports.
These Lions were brought to this sanctuary from the Gir forest in Gujarat, and have lived here ever since. 11 lions were last counted in 1965, in this area. Their sudden disappearance has caused much alarm, and the reason for this seems to be a complete mystery to the forest officials.
"As the Wildlife (Protection) Act was not in force that time, there was no effective control on hunting of wild animals," said Chandra Shekar Pandey, Forest Officer of Kashi Wildlife Division, to
The Times of India
. "But, we are not sure what happened to the lions in the sanctuary as there are no records."
The officials say that they have never had a record of these lions post the 1965 counting, and are unaware of how they went missing. Of course, some officials believe that these lions might just have died out, and that their disappearance may not have been influenced by external factors, like poachers.
"Lions were released in that region years back and they probably died naturally," said Rupak De, Principal Chief Conservator of Forest (Wildlife), UP. "We do not have any records maintained of that time, so it's difficult to say what happened of them. Moreover, enforcement was not strong at that time and there must not have been proper planning to release them."
"There is no record with the department about the disappearance of the lions," said an anonymous Forest Official of Kashi Wildlife Division. "It is believed that either they would have fallen prey to the hunters or migrated to nearby jungles of Bihar."
The concept of relocating some lions was introduced in 1965, so that the lions, whose numbers were on the decline even back then, could be conserved. The UP government had offered to host one set of them at the Chakia forest, within the Chandraprabha sanctuary.
Three lions were captured in the Gir forest, in 1956 – one male and two females, and were introduced to the Chakia forest. In 1958, there were four lions, in 1960, one was added to the group, in 1962, it was increased to seven and in 1965, there were 11 of them. A few other lions were also captured during that time and were transferred to zoos in Lucknow and Kanpur.
http://www.ibtimes.co.in/11-asiatic-lions-missing-uttar-pradesh-sanctuary-606479