By Premala de Mel
The wealthy state of Gujarat has a controversial BJP Chief Minister, Narendra Modi, who has been described by an Indian business magnate as a CEO of a successful company. In spite of the devastating earthquake in 2001 and the Hindu-Muslim riots of 2002, the state has made great strides in agriculture and industry.
The state produces cotton, ground nut, sugar cane, rice, maize and other minor crops. Famous for its textile industry, the state has also attracted companies that have set up engineering, ship repairing, petrochemicals, drugs, pharmaceuticals and automobile plants.
Gujarat derives its name from Gujjar, a tribe which migrated from neighbouring Rajasthan. Gujjars were the first inhabitants of the state. Later, the Parsis from Persia settled down in the coastal areas. As one travels across this state of 50 million people and 75,685 square miles, the good network of roads vouches for progress the state is making. The old traditions flourish as well with alcohol available only to foreign tourists.
Gandhinagar is the capital of Gujarat named after India's Great Soul, the Mahatma, who was born in Porbandar. The fight for Independence from the British began with marches and protests in his home state. Gandhiji's modest home in Ahmedebad where he spent many years with his wife, Kasturba, is today a museum with his memorabilia, letters and photographs.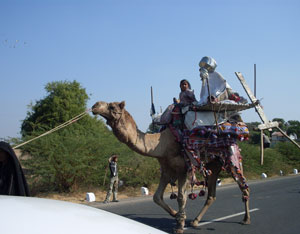 A typical Gujarat village scene

My friend and I arrived at Gujarat's Bhuj airport close to the Rann of Kutch – a salt marsh -- on the border with Pakistan. A dispute over the Rann led to a war between India and Pakistan in 1965. We were taken to the office of the District Superintendent of Police on arrival to obtain a permit to visit some of the banni border villages in the Greater Rann, a high security area.
Armed with the permit, the next morning, we drove past the black mountains set amidst a stark terrain. The salt threw up a pinky glow with the reflection of the sun. We drove to a Hindu temple dedicated to the mountain gods. We were told the Hindu priests there feed the jackals living in the wilderness at noon each day. As the numerous onlookers waited, a solitary jackal emerged to claim his scrap lunch and disappeared into the bush.
The five Banni Harijan border villages are famous for mirror work. Our guide pointed to the mud and mirror work on the interior walls of the village homes where the residents sell embroidered items, a cottage industry in Gujarat.
We were amazed at the skills, as we stopped over in the villages of Bhujodi, famous for woollen shawls with mirror work. We drove to a village rebuilt with donations from the Economics Nobel Prize Winner, Amartya Sen, after the earthquake. The houses, similar to the Kenyan rondavels, are said to be quake resistant.
As described by Rudyard Kipling "Providence created the Maharajas to offer mankind a spectacle". Gujarat has a number of Maharajas and their enormous edifices are either maintained by the families as hotels or open to visitors. We saw the Aina Mahal in Kutch. The palace, a museum today, had suffered badly during the earthquake.
We were fortunate to have tea with the Maharaja of Wankaner, Dr. Digvijay Singh, in his principle palace. During British times, the family was accorded eleven gun salutes. The highest number of 21 gun salutes was reserved for the larger royal states of Hyderabad, Mysore, Jammu & Kashmir, Baroda and Gwalior. At the stroke of midnight on December 28, 1970, the President of India signed and de-recognised the Princely Order and six months later the princely states were abolished, despite an undertaking given that they would continue with certain privileges.
A number of the former royal families are in the forefront in politics, fashion designing, films, sports, and business. The Maharaja of Wankaner had studied at Clare College, Cambridge and was the first environment minister in Indira Gandhi's cabinet in the 1960s. He was responsible for setting up the tiger parks.
A knowledgeable person, Dr. Singh inquired about two of our conservation sites -- Wilpattu and Adams Peak. We saw in his palace, trophies of the animals that his father and he had shot (including a bear shipped from Alaska!).
Our visit to Sasan Gir Lion Sanctuary established in 1913 on the south western fringes of the Saurashtra Peninsula to see the only 300 Asiatic lions, and the 250 leopards, was scenic. The best season to witness the animals is the summer. We did a couple of forays in an open Gypsy jeep bundled in our woollens and aided by blankets to combat the cold. We were unlucky with the cats, but saw a lot of deer, sambhar and nilgai. The migrant and ethnic birds of Gujarat were abundant. We observed a number of rare species in the forest areas, eagles perched on the telecom towers, and flamingoes, painted stork, pelicans and other migrants in swampy areas.
On the trunk roads, we passed the Rabbadis, a gypsy community of Gujarat. I was captivated by the women clad in black as they led the camels laden with their household goods. The men dressed in white walked ahead with their herd of sheep and goats scouting for pastures.
A predominant feature of Rajasthan and Gujarat are the ornate step wells built in the 11th and the 12th centuries. The stepped corridor compartmented with pillared multi-storied pavilions is a unique feature. These have demarcated stages along the descent and sculptures of deities enhance the walls. The step wells have at least five storeys and the lower one descends, the cooler it is. The travellers in the past used the step wells overnight.
Enroute for our sojourn at the Nilambagh Palace, the former residence of the Bhavnagar Royals; we broke journey at the UNESCO Heritage site of Champaner a cluster of beautifully preserved pre-Moghul buildings, the hallmarks of Hindu and Muslim architecture.
The visit to Palitana, the Jain headquarters, which consists of 863 temples and is situated on the summit of the Shatrunjaya Hill, is an unforgettable experience To conserve my energy for the balance part of the ascent, I hired a palanquin for Indian Rs. 1,400 and was borne in state by four bearers. The Jains are strict vegetarians. They even refrain from eating rooted vegetables and believe in non-violence. They make the pilgrimage to Palitana at least once a year.
Prior to reaching the summit and the cluster of temples, the pilgrim could choose to crawl under the belly of a concrete camel. If successful, the pilgrim is absolved of his sins. I refrained not wanting to pull a muscle though I was told that I was slim enough to get through! The glass mosaic doors of another temple, the statues of deities, the mountains of discarded rose petals brought by the pilgrims to the site, the kitchens making the holy paste, are some of the sights to be seen.
The former Portuguese island of Dui on the southern tip of the Saurashtra Peninsula is now a Union Territory governed by Delhi. Dui is very popular with the people of the state, as the prohibition laws on alcohol do not apply here. St. Thomas' Church, which we visited, displays Catholic statues and religious paintings.
The well preserved fort built in 1541 surrounded by a moat with its cannons, armoury, dungeons and a tree from Portuguese times compensated for the lack of lions in Gir. The houses in the narrow streets have a number of Portuguese buildings and villas. We could have spent more time discovering what the city had to offer but it was time to move on to our next adventure.
Ahmedabad, a former capital was a welcome change. We stayed at the Heritage Hotel Mangaldas, formerly the home of an industrial family from the city. The open air roof top vegetarian/thali restaurant Agasti is hugely popular and somewhat similar in its ambiance to The Gallery Café in Colombo. Each diner is presented with a rose on arrival as one sits amidst the glow of the candles.
The Calico Museum, formerly the elegant Sarabhai family home was a revelation and is certainly worth a visit. Strict rules are in force and once the visitor commences the tour, the doors are bolted until the two hour tour is complete. We were escorted through the display rooms where there were magnificent intricate designs, weaves, and materials that had been donated. Some of the items that caught my eye were the brocade Moghul interior of an enormous tent, an ornate interior of a Maharaja's Rolls Royce, exquisite ivories and bronzes.
As we set off on an early morning heritage walk through the bowels of the old city, we saw men preparing their kites for the January festival and competition which attracts even foreign participants. We passed through narrow streets containing the architecturally distinct homes of former inhabitants of the city.
The Little Rann of Kutch consisting of 4,953 sq km was established in 1973 to conserve the wild asses and this led to an immediate recovery. The Rann is flat, white cracked and utterly barren. There are 364 hills called bets that rise across the Rann and provide food and shelter to the animals. Travel is only allowed in jeeps. As we drove on the flat plains, we saw a number of white asses in small herds, (similar to zebras in height and build) with brown markings on their body. The Rann Riders Hotel recommended by the Lonely Planet Guide was comfortable and consisted of fifty mud and thatch cottages with the traditional Indian swing on the porch. Except for a rat that got into my suitcase and nibbled my jacket, our stay was very comfortable!
The Somnath Temple dedicated to God Shiva is a site that should be visited. We visited Patan, a small town and saw traditional Patola designs being woven by a family that had carried on the tradition from the 14th century. On the loom on order was a sari being woven in an intricate pattern of blue with red and yellow motifs. The senior member of the family told me that it would take six months to complete and would cost Indian Rs. 150,000/-. Another stop was to see agate jewellery being fashioned and sold in a wayside home in a small town.
The State does not attract the numbers that Rajasthan has due to the prohibition laws. Gujarati food is well known for being special. Despite having a mainly vegetarian diet in the remote areas, we did not miss the meats! Gujarat is an absorbing cultural experience and well worth exploring to those wishing to discover another facet of Incredible India.
Shttp://www.sundaytimes.lk/101226/Plus/plus_13.htmlource: