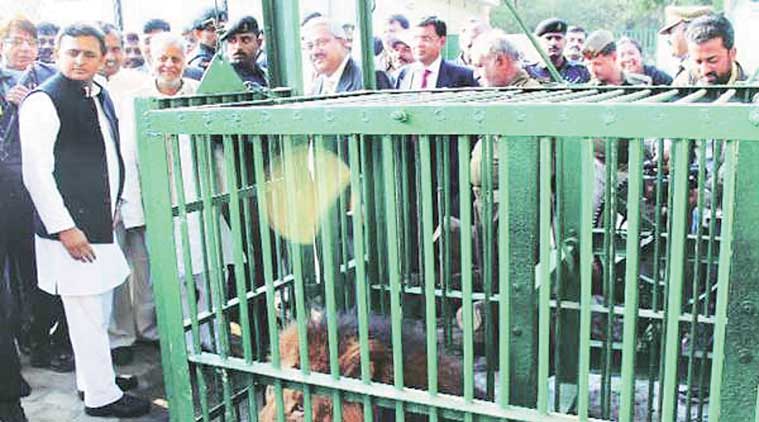 All 5 cubs dead, officials 'start afresh', put hopes on 'next round of breeding'. - See more at: http://indianexpress.com/article/cities/lucknow/lion-safaris-dream-run-laid-to-rest-with-girishmas-cub/#sthash.9SFWS07o.dpuf
All 5 cubs dead, officials 'start afresh', put hopes on 'next round of breeding'.
Written by Faisal Fareed | Lucknow |
Published:August 21, 2015 1:16 am
For Etawah Lion Safari officials, starting from scratch is the only option left with the last surviving Asiatic lion cub dying late on August 14.
Lioness Heer had delivered two cubs on July 18 but the cubs couldn't be saved. Thereafter on July 22, Girishma delivered three cubs but two of them did not survive. Forest officials had pinned their hopes on the third cub but he , too, lost his battle with life last week.
"Sadly, all the five cubs died, but we are starting afresh. We are hopeful of the next round of breeding and pregnancy among the lioness," said Sanjay Srivastava, the newly-appointed director of the Etawah Lion Safari. Conceived in 2005 by Samajwadi Party chief Mulayam Singh Yadav, the lion safari has witnessed a series of deaths. In October 2014, lioness Lakshmi died, followed by a lion named Vishnu in November. This was followed by the deaths of the five cubs this summer.
Another lioness, Kunwari, is reportedly ill. Officials, however, claimed the lioness is fine. "She is taking normal diet, passing stool and, hence, there is nothing to worry," Srivastava said.
"What happened was unfortunate. The cubs had become a pride for Uttar Pradesh; everybody was watching them but it did not go our way," he added.
However, Srivastava said though the deaths are unfortunate, they aren't abnormal. "As per experts, cubs born to first-time mothers have little chances of survival," he said.
Chambal Range Divisional Forest Officer Anil Patel under whose jurisdiction the lion safari falls also said during his training at Sukkarbaugh Zoo in Junagarh, Gujarat, he had observed a similar thing. "The wildlife experts there apprised us that chances for survival of cubs of first-time mothers is quite less. We hope to do better next time," Patel told
The Indian Express
. The safari also has three lions – Manan, Gigo and Kuber – from Gujarat.
Asiatic lioness have a gestation period of three-and-a-half-months after which they deliver 2-3 cubs. But time is running out for the officials as the dream project of the SP chief is unlikely to become operational before the 2017 Assembly elections in the state. Even after their birth, the cubs have to be kept in an enclosed area for at least two years before releasing them in a safari.
Meanwhile, senior officials stationed at the lion safari have returned while KK Singh, the former director, is facing a police case after an employee accused Singh of beating him and has been shifted to Lucknow. Principal Secretary Sajiv Saran has visited the safari to take stock of the situation.
http://indianexpress.com/article/cities/lucknow/lion-safaris-dream-run-laid-to-rest-with-girishmas-cub/