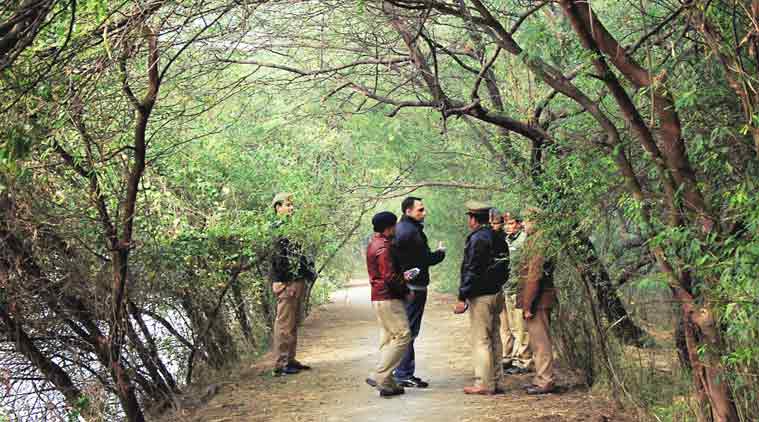 Owners of Balaji Processors said after receiving the notice, they had closed their unit on March 3. - See more at: http://indianexpress.com/article/cities/ahmedabad/dyeing-unit-near-gir-forest-closed/#sthash.aDFAC20V.dpuf
However, the matter came to light only on Sunday.
A dyeing and printing unit has been shut down after the Gujarat Pollution Control Board (GPCB) ordered its closure following complaints from the forest department that the firm was polluting eco-sensitive zone of Girnar Wildlife Sanctuary in Junagadh.
Forest officials had lodged a complaint with the regional office of GPCB in Junagadh after they noticed that Balaji Processors at Dungarpur village of Junagadh taluka was releasing effluent in a nearby stream. Acting on the complaint, the pollution watchdog of the state issued a closure notice.
Owners of Balaji Processors said that after receiving the notice from the GPCB, they had closed their unit on March 3. However, the matter came to light only on Sunday.
"The unit is just 500 metres away form Girnar Wildlife Sanctuary. It was discharging industrial effluent in a nearby stream and that posed a thereat to local eco-system. Therefore, we reported this matter to our top officers, who in turn approached the GPCB," a forest officer of Junagadh said.
GPCB confirmed it had served a closure notice to Balaji Processors. "Basically it's a dyeing and printing unit. It has a boiler also and therefore, it can cause air and water pollution. So in accordance with laws, we issued them a closure notice," Avinesh Sharma, regional officer of the GPCB in Junagadh, told
The Indian Express
.
Sharma further said that owners of the unit had claimed that the factory had been functioning even before the time its location was declared eco-sensitive zone. "However, we told them that rules were clear about the eco-sensitive zone and therefore the unit will have to be closed," said the RO.
A resident of Waghodia road, Amit Patel, said, "If this is the condition of the city in just about an hour of rain on Saturday as well as Sunday afternoon, then we can only imagine how it would be as the season progresses. We have not seen the VMC cleaning the drains ahead of the monsoon. In fact, even when we tried calling officials to arrive here as the water was clogging the streets, they took their own time to arrive."
Vadodara city executive engineer P M Patel and executive engineer for storm water drains Alpesh Majumdar remained unavailable for comment.
Late on Saturday night, a two-feet long crocodile was rescued from the compound of a hotel near Tarsali bypass. Animal activists have also received calls for rescuing snakes spotted in colonies since Saturday morning. On Saturday evening, eight snakes were taken away from the New VIP road area by animal activists.
http://indianexpress.com/article/cities/ahmedabad/dyeing-unit-near-gir-forest-closed/