Wednesday, 11 June 2014 - 11:34am IST | Agency: ANI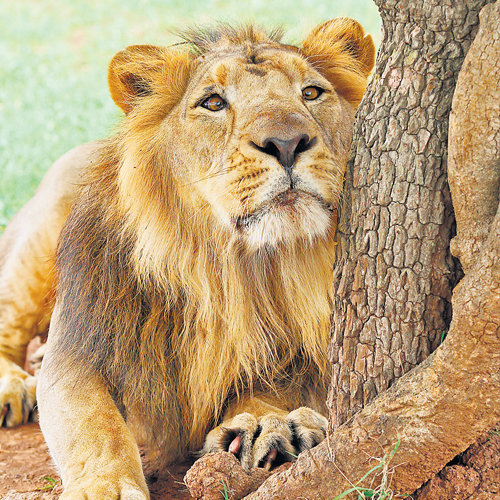 Asiatic Lions, which are found in the Gir forests of Gujarat, are in news for their proposed relocation to the Kuno Palpur Wildlife Sanctuary in Madhya Pradesh. The present habitat for these big cats is considered dangerous because of an inbreeding threat as also Gir's location in a seismic zone.
Naresh Kadyan, a leading animal rights activist, told ANI that, "Wildlife sanctuaries in Madhya Pradesh were witnessing massive hunting and poaching of lions and tigers. The main agenda of the Madhya Pradesh Government is not the conservation of the species but to promote tourism and that's the reason they want to shift the Asiatic Lion to their state.
The Rs.79 crores proposal made to the Gujarat Government is nothing but an investment to promote tourism in their state."
A PCCF forest official of Gujarat, who wished to stay anonymous, asserted that the environment ministry has constituted a committee on the directions of the Supreme Court to ensure the betterment of the lions' future. The proposal to shift Gir's Asiatic lions to Kuno has been delayed for years due to certain objections by the Gujarat Government, but a recent Supreme Court order has now reportedly cleared obstacle.
The Supreme Court has directed the Madhya Pradesh Government to expand the Kuno Palpur wildlife area for the relocation of the lions. Sarbaranjan Mondal, an award winning wildlife activist, feels the Asiatic Lion should not be shifted to the Kuno Wildlife Sanctuary in Madhya Pradesh. "It is imperative to conserve the environment as well as the animals and the shifting of the Gir lions to some other wildlife sanctuary won't solve the issue", Mondal said.
Earlier, Gujarat had opposed the plea of Madhya Pradesh, saying that lions would not be safe there as the central state had failed to preserve its own tiger population in the Panna reserve forest. However, the Kuno Palpur Wildlife Sanctuary in Madhya Pradesh is expected to become the second home of the Asiatic Lion, which are currently only found in Gujarat's Gir National Park.
http://www.dnaindia.com/india/report-experts-not-too-enthusiastic-over-proposed-shifting-of-gir-lions-to-madhya-pradesh-1994818